For the people who like Adventure Time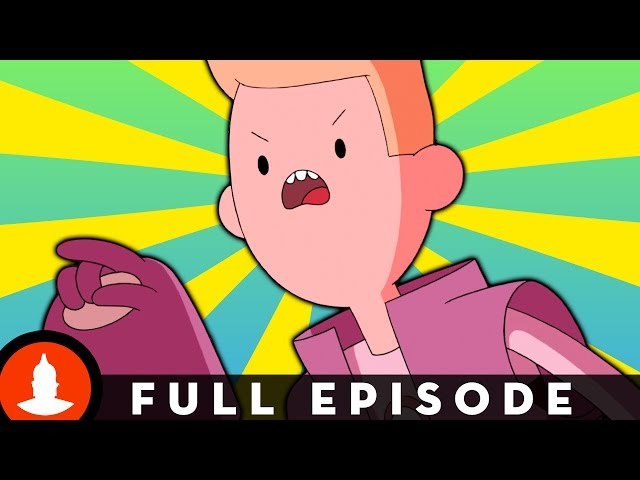 "Time Slime"
...or be forever stuck in a time loop! With their parents gone, the Bravest Warriors must step up. Wallow connects with a love from his past and The Bravest Warriors must save Glendale, or be forever stuck in a time loop!

Subscribe:
www.youtube.com/subscription_center?add_user=CartoonHangover

Ep. 2 - Emotion Lord:
www.youtube.com/watch?v=Mc--PXN41xc

Click to tweet:
clicktotweet.com/5C9EU

Facebook:
facebook.com/toonhangover

Twitter:
twitter.com/cartoonhangover

Blog:
You need to login to view this link

Behance:
You need to login to view this link

Trivia Time:
What actress has a conversation with herself in this episode?

Cartoon Hangover is the home for cartoons that are too weird, wild, and crazy for television. Cartoon Hangover is able to bring great characters, hilarious cartoons, and some of the highest quality animation to the Internet.

Written by: Breehn Burns
Directed by: Breehn Burns

Storyboard by: Tom King
Creative Consultant: Jason Johnson
Timing Supervisor: Larry Huber
Sheet Timing: Larry Huber
Character Designers: Bob Flynn, Phil Rynda
Prop/efx Designers: Greg Sesma
Background Design: Steven Sugar
Background Clean up: Jojo Baptista
Background Painter: Christy Beckert
Color Stylist: Christy Beckert

Created by: Pendleton Ward
Developed by: Breehn Burns, Will McRobb, Chris Viscardi
Executive Producer: Fred Seibert, Breehn Burns, Will McRobb, Chris Viscardi
Producer: Kevin Kolde, Eric Homan
Production Manager: Sylvia Edwards
Production Coordinator: Stephen Worth
Production Assistant: Ross Kolde
Casting Director: Meredith Layne, CSA
Editor: Andy Tauke
Assistant Editor: Ray Valenzuela, Molly Yahr, Valerie Rodriguez
Art Director: Christy Beckert

Cast
Beth: Liliana Mumy
Chris: Alex Walsh
Danny: John Omohundro
Wallow: Ian Jones-Quartey
Gayle: Maria Bamford
Pixel: Maria Bamford
Professor Fartsparkles: Thomas Middleditch

Voice Director: Breehn Burns
Dialogue Recording: Salami Studios
Dialogue Mixer: Mark Mercado, Jonathan Abelardo
Post Production: Salami Studios
Re-recording Mixer: Thomas J. Maydeck C.A.S.
Sound Designer: Robert Mcintyre
Bravest Warriors Theme Song: Peter Berkman, Jon Baken
Score by: Tim Kiefer, Peter Berkman, Jon Baken
Animation Checking: Wendy Jacobsmeyer
Track Reading: Slightly-Off Track Inc.